Your Trusted Domestic Source for
QUALITY CONSCIOUS. OTHERS MINDED. ON-TIME. INNOVATIVE.
We create solutions for your design needs. The best quality commercial manufacturing of fixtures, components, 3D laminate products and CNC machining in the industry.
Capabilities
3d pressing | flat press | dowel boring/insertion | display | routing | v-grooving | miter folding | project engineering |engraving | prototyping | subassembly | up To 4' x 8' pressed materials | up to 1.5" thickness | mdf combo thickness via glue and press
Product
Often contractual agreement prevent us from showing you what we have made for our customers. Items include:
tops, bases, cubes, doors, shelves, signage, pilasters, pedestals, moldings, tabletops, desktops, work surfaces, countertops, fluted casings, and drawer fronts, cubes, risers, architectural panels, privacy screens, trade show booths, component parts, logo bevel/embossed parts, store display elements, fixtures, cash wraps, speaker baffle boards, etc.
Design Drawing below!
How it works: Bring us your professional design, we manufacture based on your specifications. Need a sample? No problem!
REQUEST A QUOTE
All estimates are free and flexible according to materials and scheduling.
3D Laminate Choices
Bierson has developed a national reputation for fashioning 3D surfaces on MDF (medium-density fiberboard). We work with the highest quality laminates and have an array of choices that simulate:
lux, matte, leather, wood grain, stone, marble, cement, metal, high gloss finishes, eye-catching etched patterns, etc.
The Right Technology
Our Equipment includes: Altendorf F45 SlidingTable Saw, Atlas Copco, Busch Vacuum pumps, Dust Collection, Gannomat, Heian Routers, Hyster, Joos Mini Press, Mereen Johnson 424 Dip Chain Rip Saw, Digital Measuring, Mirka Dust Free Sanding Stations, Mitutoyo, CFC-P60, Point-to-point, Porter Cable Production Pocket Cutter, Revolving Frame Clamp - Handy Manufacturing - Warsaw Machinery, Inc, Rogers VED Air Compressor, Safety Speed Panel Saw, Schmalz Vacuum Lift, Wemhoner Press.
Service
Bierson Corporation manufacturs for the design, architectural, hospitality, store fixtures industries in both the domestic and international markets. With high volume capabilities and tooling solutions, we can deliver product for your most complex projects. Beyond 3D surfacing, Bierson excels at CNC machining with non-ferrous material (wood or plastic based material). We have some of the best machining equipment in the industry.
Solutions & Innovation
We love to find solutions and just the right mix of materials. Just because you do not see your project type here that does not mean the project is not in our wheelhouse. We strive to create a solution that will fit your needs. With Bierson you get the best in process design, systems, technology and expertise. Our seamless production flow provides cost efficient solutions for your most challenging projects with a timely response and the quality craftsmanship you demand.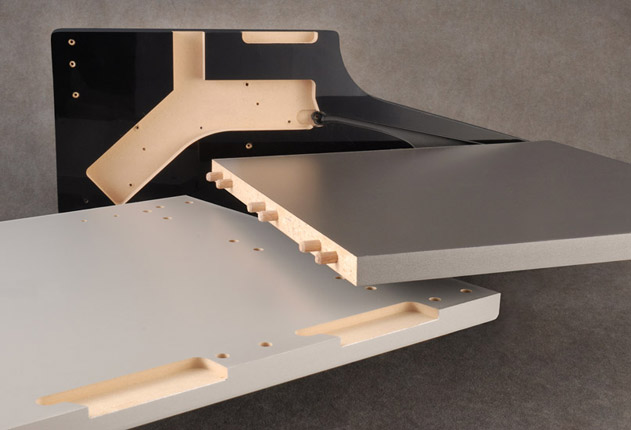 We create solutions for big projects.
We are problem solvers and will work hard to bring your project to fruition. With proprietary knowledge gained through our many years in the industry, we have uniquely configured our equipment combined with systems to produce optimum performance and flexibility; making short lead-time manufacturing methods for both custom products and long runs of standard parts possible. We can tailor our lead-times to meet your production demands. You will not find large inventories at our plant; we run complete orders and that's the way you'll receive them. We also provide value-added services such as precision boring and drilling, eliminating the need for secondary manufacturing.
We understand that quality products can create demand for your designs. Whether you need a sample for a client or general knowledge from our excellent sales team, we are happy to help you put together the right mix of samples for your design.
We manufacture for designers, architects and contractors, etc. Bring us your designs!